Corporate Gift Ideas

Candles are an ideal gift. They say warmth, light, and good cheer. They are consumable, always used, never clutter.
At CandleSmith, we have 15 years of wholesale resources at our disposal. We specialize in combining candles and candle holders with decorative gift boxes and will customize and personalize your gift to fit your corporate needs.
"It's a real pleasure working with a company that is so thoughtful towards customers." –  Jim Dykes, Greer SC
How to Order Gift Boxes
Please contact us by email info@candlesmith.com, or phone (904) 823-9660 to discuss your needs. Below are some ideas and suggestions.
Bayberry Tapers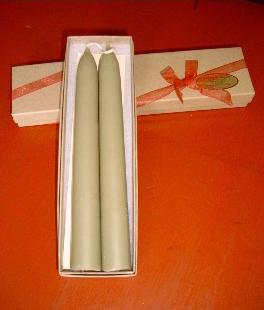 hand-poured 8-inch real Bayberry tapers
beautifully boxed with coordinating ribbon
$8.00 per pair
Bayberry Tapers in Crate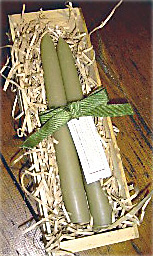 hand-poured 8-inch real Bayberry tapers
beautifully tied with coordinating ribbon
nestled in a rustic crate
$18.50 per pair
Bayberry in Candle Pots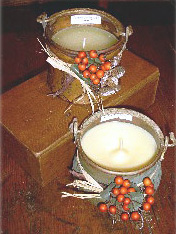 hand-poured real Bayberry in luminous candle pots
with ribbon and decor
filled with your choice of bayberry wax, or vanilla or cinnamon fragrance
$25 each
Bayberry Tapers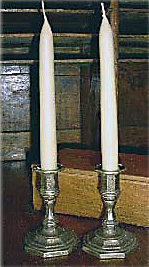 hand-poured real Bayberry tapers
elegant holders with gift box
$30 per pair
Bayberry Pillar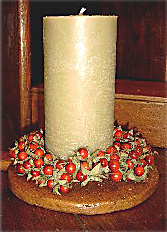 hand-poured 6-inch real Bayberry pillar
with berry ring and antique holder
$40
Other Options
We will be happy to put together a custom combination at 25% off the retail price.  Give us a call and we will help you design the right gift for your needs.
Testimonials
"I am beyond pleased with the Gift Boxes. Thank you so very much." – Erin Dwyer, Sewell Bucktail Recruiting Insurance
"Everyone loved the gift." – Diane Miles, Given Estates, NC